RPG asset tileset free pack
A downloadable RPG asset free pack
[SRW] Super Retro World free overview !
Super Retro World is a serie of 16x16 pixel-art asset package for 2D top-down games. Each pack contains more than 550 different tiles !
✨ Why this package is for you ✨
Get beautiful and coherent graphic to make your project instantly awesome to look at.
Get plug-and-play tiles palette, autotiles and tilesets with Unity / Godot / RpgMaker compatibility.
Get many graphic variation to make your game unique and special !
To put it simple : you save time AND money !
⤴️ Update 2 : Character !
1 character walk animation (12 frames)
🎮 Features
A free overview of the Super Retro World RPG asset serie
Screenshots are from the complete version of each pack !
❓ What's next
Biomes package : mountains, snow, underwater and more !
Character package.
Super Retro World packages have regular updates, devlog and recurent sales. Give me a rate ⭐️ and comment below if you want specific stuff, let's talk 💬!
Want more ? Follow me !
Thanks a lot for your support :).
Current bundle
Other packs
Download
Click download now to get access to the following files:
SRW_Free_overview_update_1.zip
4 MB
SRW_Free_overview_update_2.zip
4 MB
Comments
Log in with itch.io to leave a comment.
It is really beautiful ! Nice Work !
Inspired designs & wonderful colour palettes. Excellent bundle!
Looks great will be buying the bundle shortly. I noticed on one of the packs you stated there are instructions for swapping colours. Is this limited to asperite or can this be used with other software? Thanks.
Forgot to add, the dungeons look great that's probably what swung the purchase for me. Lovely ground tiles. Nice stuff.
Hello lordzola,
Thanks ! Don't remember those instructions actually, where did you read that ?
You can edit the color if you want anyway, the palette is available within the atlas (as a tile) :)
Btw, the black friday bundle end this sunday. Tell me if you miss it.
Sorry I got mixed up with the interior set offered in the same bundle. Dungeon comment still stands tho!
Thanks ! Updates are comming this weekend (adding unity pkg). I'm currently working on a character pkg :).

This is outstanding, great work.
Hey. Do you have a character pack that fits well with this entire range, or can you recommend one?
Hey OlivierMUk,
The next bundle is in contruction with a Character pack. Here, take a look :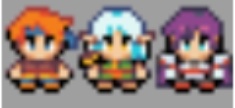 looks perfect.
I'd pay a bit extra for an add-on pack that had a variety of clothless bodies and a range of outfit pieces so that you could put together an unlimited range of characters.
Thanks !
Unfortunately we are not goin' toward this direction. Don't worry tho, we made a lot of them anyway, and will update if required by the community :).

Hello Mandymayham,
Thank you :) your art is pretty unique and beautiful too ! You should keep goin' !